Protect Your Investment While Adapting to Your Business Needs With FLEXspend for Spanning
In the ever-evolving IT realm, change is the only constant. The IT landscape has transformed immensely over the past few years, ushering in a new era of innovation and adaptation. Organizations of all sizes are now recalibrating their IT strategies to meet the demands of this changing digital world.
Central to this evolution is the recent rise of cloud migration. The Flexera 2023 State of the Cloud Report mentions that 87% of respondents are embracing a multicloud strategy. Due to the current macroeconomic condition, IT leaders are looking to the cloud to help them prepare for what lies ahead. According to a recent Google Cloud survey, 41.4% said they're increasing their use of cloud-based services and products, and around 33% are planning to migrate from legacy enterprise software to cloud-based tools. All this indicates a shift toward hybrid environments and workloads, where on-premises data centers, private clouds and public clouds coexist to create dynamic infrastructures.
With this shift to hybrid environments, organizations can harness the power of the cloud and retain some control on-premises, achieving the right balance. This drives the need to modernize applications and services while making them more agile, scalable and cost-effective. Added to that is the automated nature of cloud cost-optimization policies that can save time, ensuring businesses consistently monitor their environments to reduce wasted spend.
However, one of the characteristics of such an ecosystem is the continual movement of mission-critical data. As a result, IT workloads frequently migrate to new environments and platforms, creating confusion when reassigning contract investments. For example, if your organization plans on migrating from Google Workspace to Microsoft 365, the most common concern of your IT team will be how to recover the sunk investment made in the existing backup framework and platform.
This is where the FLEXspend for Spanning program comes in handy.
Introducing FLEXspend for Spanning Backup
Although the IT needs of organizations like yours may change, foolproof data backup and recovery remains a necessity. So, it's ideal to get predictable returns on your backup investments while matching your data protection needs. FLEXspend for Spanning does that by reassigning the investment to a different Spanning or Unitrends solution, even during a committed service contract.
Your backup spend moves where you need it
Thanks to this flexible model, you can plan data backup and disaster recovery budgets and requirements without being locked into the underlying infrastructure or platform. You can seamlessly replace any unneeded Spanning Backup solution with another technology matching your needs without worrying about sunk costs.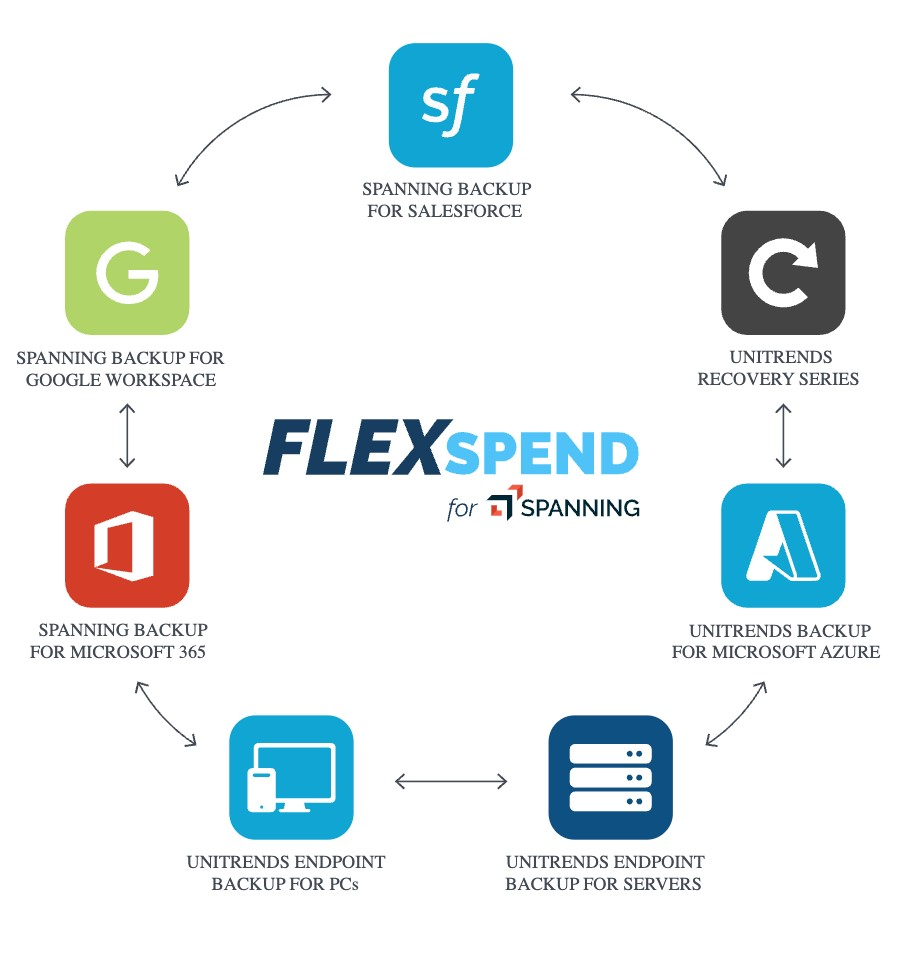 With the FLEXspend program, you get:
End-to-end protection of data and workloads regardless of their location.
A predictable and secure investment that escapes solution lock-in and offers you the flexibility to reassign spend.
Powerful, adaptive licensing model that makes production data migration safe and hassle-free.
Migration period with FLEXspend
The 60-day migration period with FLEXspend offers enough time for your IT team to migrate production data safely. In this transition period, both backup products will be active and available at no extra cost. After 60 days, the older product licenses will be discontinued, and the payment attribution will move over to the new module.
Future-proof your business continuity with FLEXspend
The primary goal of the FLEXspend for Spanning program is to safeguard your backup investment. Adaptability is critical to ensuring your business continuity doesn't take an abrupt hit while flexibly reassigning your committed contract investments. FLEXspend caters to that efficiently and protects your investments while adapting to your organization's ever-evolving needs.
Curious to learn more about this new program? Visit us today.