Exciting New Features of Spanning Backup for Microsoft 365
Microsoft 365 has become a goldmine for small and midsize businesses (SMBs) today, with most of their business-critical data now living in Microsoft 365 platforms like Office, Mail, Teams, Calendar, OneDrive and SharePoint. All your proprietary intellectual properties, business strategies, financial information and customer contracts are stored and shared through the SaaS application. However, the increasing significance of Microsoft 365 in the SMB world also makes it a lucrative target for cybercriminals. In 2022, Kaspersky's detection systems discovered a whopping 236% growth in the share of daily distributed malicious files in Microsoft Office formats. This rapidly expanding threat landscape, along with the open nature of the SaaS application, creates a "double jeopardy" situation for organizations in terms of cybersecurity.
Although backing up your Microsoft 365 data ensures adequate protection, things can still go wrong even then. Imagine finding out in the event of a data breach that the admin team forgot to turn on the backup for a few new users —  you risk losing business-critical information that impacts your operations and business.
On average, a new hire has 54 activities to complete, making employee onboarding one of the most complex HR processes. The risk of manual errors becomes increasingly probable in the new hybrid work culture, where employee onboarding is even more complicated. During the onboarding of a remote employee, the backup admin may forget to turn on the protection for them, which could result in irrecoverable data loss later. In today's macroeconomic situation, where hiring top talent is a big challenge, such an incident could also result in a negative employee experience.
That's why Spanning has released these brand-new features: automated licensing assignment, automated purchase and archived licenses. As always, Spanning aims to make backup and recovery as seamless and frictionless as possible for its users — and introducing these cutting-edge features is a big step in that direction. Besides eliminating the possibility of unprotected users, it also helps optimize your backup costs. Let's see in detail how these new features enhance your backup and recovery journey with Spanning.
Don't go unprotected in today's increasingly risky cyberthreat landscape
Imagine this scenario. Your company hires a new remote employee, a graphic designer named Susan, and begins onboarding her into their systems. As discussed earlier, the onboarding gets complex with those 54 steps and results in issues with provisioning, documentation and more. As a result, Microsoft 365 protection for her account was not enabled by the backup admin.
Only in the aftermath of a data loss incident did your organization realize that her Microsoft 365 data was not backed up. The result? All the illustrations, logos and other designs she was working on, along with additional critical business information, were lost, drastically affecting workflows and productivity.
How Spanning tackles this challenge
Spanning Backup for Microsoft 365 can help you easily solve this problem with its exciting new features.
Azure AD sync makes it easy
Spanning Backup for Microsoft 365 provides you with capabilities to automatically protect new users in your tenant via Azure Active Directory group membership.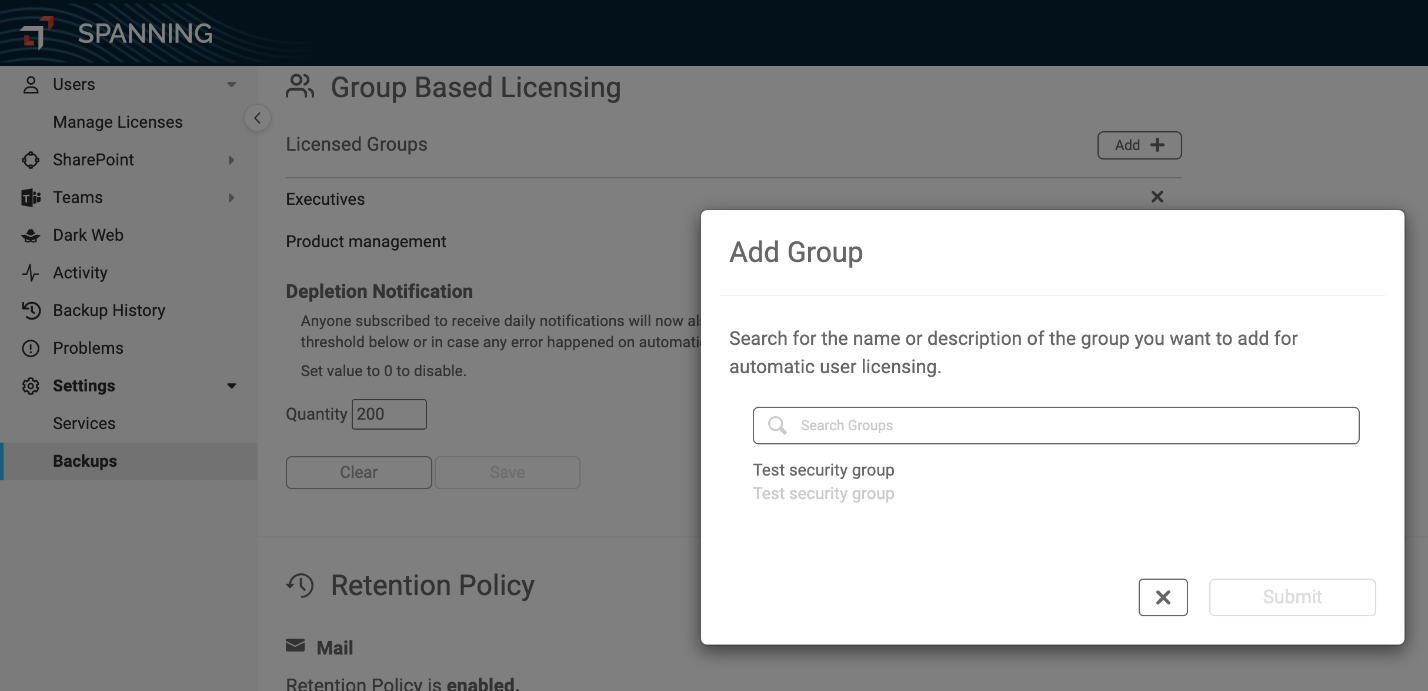 Once you have selected which Azure AD security groups should be protected, Spanning will check daily for new members and automatically assign an available backup license to the new user to enable protection. It ensures that new users like Susan always stay protected.
Check out our knowledge base article for more information on how to use Azure AD-based licensing.
Automated purchase and protection
Spanning can also acquire licenses if the pool is empty. This will significantly reduce the amount of time technicians lose by just purchasing, assigning and managing backup licenses.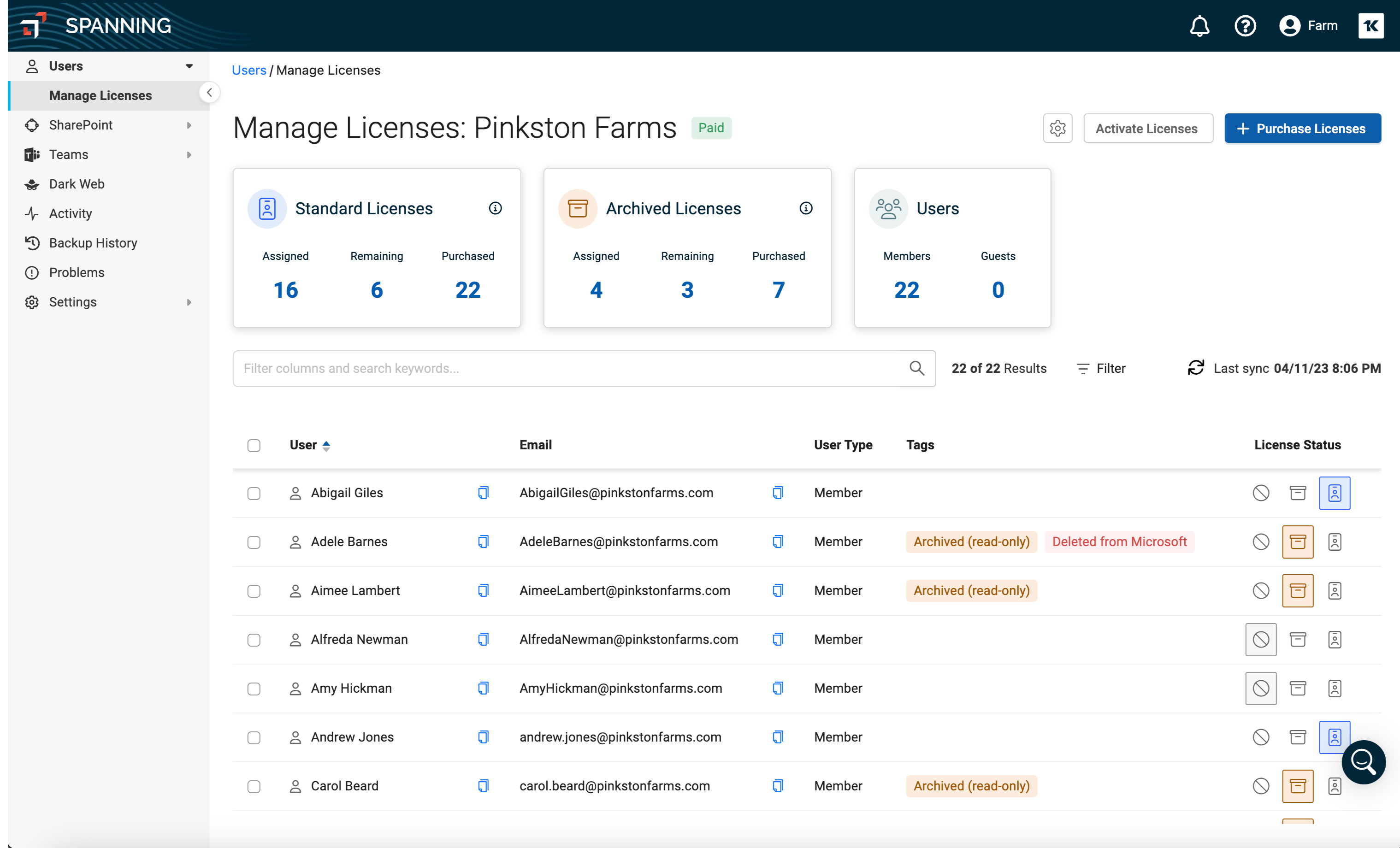 Moreover, Spanning Backup for Microsoft 365 allows you to protect and preserve the data of deleted users on more flexible terms.
When a protected user is deleted from your Microsoft 365 tenant, Spanning assigns the user an archived license automatically (if available), which is cheaper than the standard license. When an archived license is given, new backups will not run for that particular user. Any backup data collected prior to the assignment of the archived license or the deletion of the user in Microsoft 365 (whichever comes first) can be restored to another user, mailbox or exported. However, if no archived license is available, the deleted user will continue to be protected on standard license terms.
Now let's see how things work out in Susan's case:
Once joined, Susan is added to the Active Directory group "Marketing." Spanning checks once a day for new users and finds that there is a new user in the Marketing group. If the Marketing group is marked for automatic protection, Susan will be assigned a backup license right away, and her Microsoft 365 data backup will begin immediately. If there are no licenses available, Spanning can also automatically purchase one.
If, five years later, Susan decides to leave the organization, Spanning will automatically:
Remove her Microsoft 365 license to save money and assign it to her replacement
Switch her Standard Spanning License to Archived License, which is cheaper and provides access to all of Susan's backups
Start protecting her replacement once they start
Affordable, simple and reliable Microsoft 365 protection
If you have been with Spanning on your backup journey, this is one more way Spanning can help you make your backup and recovery easy and cost-effective. From onboarding an employee to their offboarding, your team need not worry about purchasing, assigning and managing backup licenses. This helps eliminate human errors that could leave gaps in your protection. After all, as the saying goes, your cyberdefenses are only as strong as your weakest link — your employees.
If you haven't had the Spanning experience yet, this is one of the many ways Spanning can help you improve your data backup and recovery processes. Learn more at Spanning Backup for Microsoft 365.