All-Time Access to Salesforce Data Now Possible With Spanning's Off-Platform Access
With a large volume of data being generated every passing minute, your IT team needs a platform that can effectively handle and analyze data. The absence of a proper customer relationship management (CRM) platform to deal with this makes data management time-consuming and inefficient. Moreover, cybercriminals can exploit such loopholes to infiltrate your data environment and wreak havoc.
As a market-leading, cloud-based CRM platform, Salesforce enables businesses to manage customer data, sales operations and campaigns. Its out-of-the-box solutions offer cutting-edge technology vital to the innovation and growth of your business. With Salesforce, your organization gets to dig deeper into the crucial metrics and data while leveraging the insights gained to better connect with partners, customers and potential prospects. Salesforce's popularity as a CRM software is on the rise with over 150,000 businesses worldwide users, as per the latest report from Backlinko.
However, inadequate and non-transparent guaranteed uptime of Salesforce has been a subject of concern for countless Salesforce users.
The problem with Salesforce's guaranteed uptime
Like most cloud-based services, Salesforce operates with service level agreements (SLAs) around service and availability. However, Salesforce's uptime guarantees are not up to market standards.
Although no company can offer 100% uptime, most customers at least expect their cloud-based services to help provide access to their software and data 99% of the time. But Salesforce's uptime rate is only 98%, according to a Gartner research report. This value is detrimental enough to cripple your business since it can put you out of operation for more than a week.
Salesforce's contract language also doesn't help much, making no promises on such aspects. Its Section 2.1, "Provision of Purchased Services," states that the company will use commercially reasonable efforts to make the online Purchased Services available 24 hours a day, seven days a week, except for planned downtime and any unavailability caused by circumstances beyond Salesforce's reasonable control (e.g., any natural disaster, civil unrest, act of terror, system outages or denial of service attack).
Hence, organizations like yours must leverage a third-party backup and recovery solution that ensures quick access to your backup and data during a disaster. Due to the problematic uptime of Salesforce, it's ideal to access data backups outside of the Salesforce UI. However, not all backup and recovery solutions can help you with that. This is where Spanning's new Off-Platform Access feature comes in handy.
Introducing Off-Platform Access for Salesforce by Spanning
Spanning's Off-Platform Access for Salesforce allows you to access your Salesforce backups from a dedicated address independent of the Salesforce platform. You can authenticate via UniView (or Kaseya VSA) to access data when either the Salesforce authentication or the app is down.
Why does it matter
Salesforce is vital to many organization's customer, marketing and operational data. With Salesforce down, users are cut off from all the precious data needed to operate their businesses smoothly. Spanning Backup for Salesforce was initially dependent on Salesforce UI. With this new feature, you can always access your Salesforce backups, even in situations where the Salesforce environment is non-operational.
What it does
With Salesforce backup being brought into UniView, admins can now monitor appliances, Azure, Microsoft 365 and Google Workspace backups along with the Salesforce data from a single portal. This will make centralized monitoring far more comprehensive and effective, reducing operational costs to a large extent. You can also get a multi-org view of your Salesforce instances for total visibility since it's not uncommon for an organization to run multiple Salesforce instances (production and sandbox instances) in their Salesforce environment.
Your backup data's accessibility can increase with the help of this new feature, thereby improving the solution's reliability in the event of a data loss incident. The admins will now have more options to access backups for restore and configuration purposes (see Figure 1).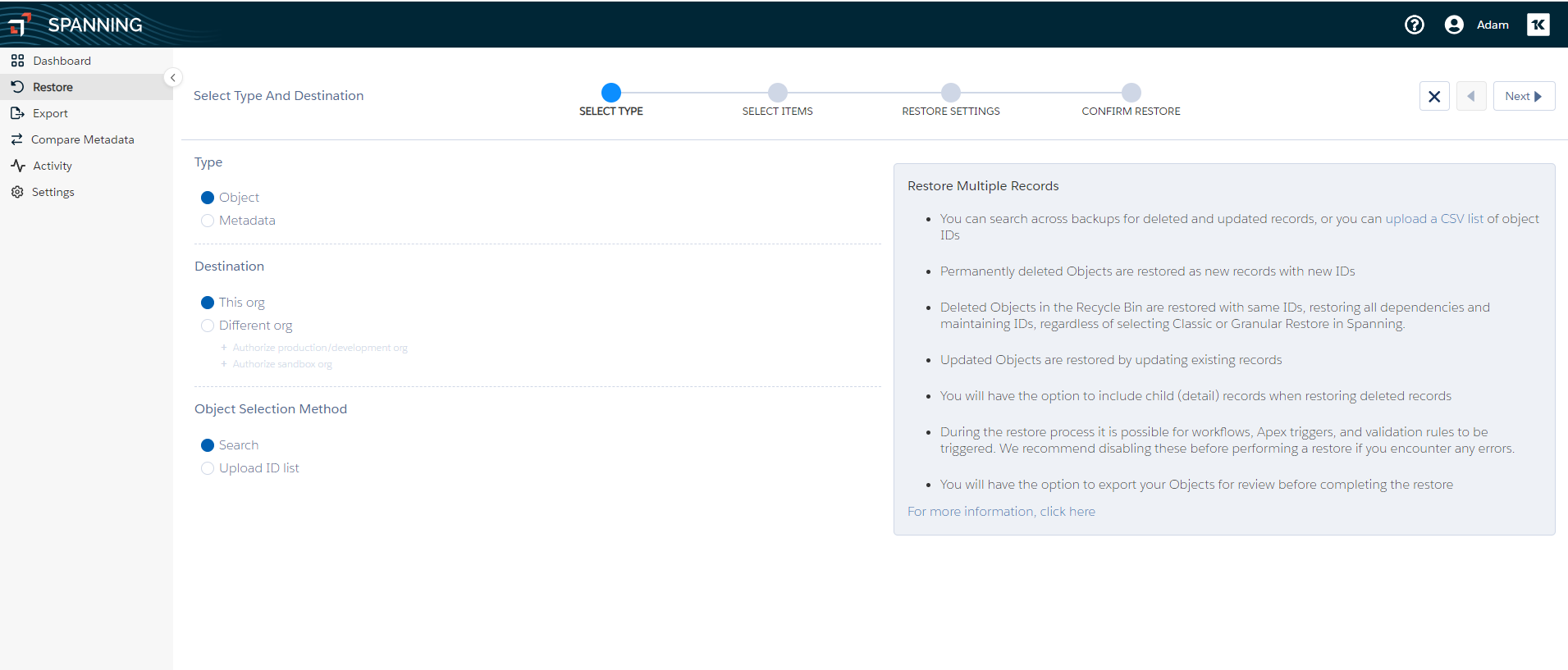 Figure 1. A list view of the multiple restore options offered by Spanning Backup for Salesforce. Here, the user authenticated via UniView and accessed the Spanning interface without using the Salesforce application.
With Spanning Backup for Salesforce, you never have to worry about data loss. Its automated, on-demand backups and easy, accurate restores ensure you can work confidently in the cloud. With the Off-Platform Access feature, you now get complete peace of mind knowing your Salesforce data is safely backed up and can be easily accessed and retrieved off-platform in an emergency.
Curious about how Spanning delivers best-in-class data backup and recovery for your Salesforce data? Visit us today!