Dec 08
2022
SaaS Data Restoration Made Easy With Spanning Backup End User Self-Service
With the recent shift towards a hybrid work model, the business landscape is witnessing the introduction of new workloads — both remote and in the cloud. In addition to traditional data center workloads, we've seen a significant increase in the adoption of SaaS applications among small and midsize businesses (SMBs) and mid-market enterprises (MMEs). SaaS applications have quickly become vital to an organization's daily operations.
This blog highlights why a proper backup and recovery process for your SaaS data and applications is the need of the hour and how Spanning Backup enables seamless, on-demand data recovery.
SaaS applications on the rise
A recent survey found that many popular SaaS applications (Microsoft 365, Google Workspace and Salesforce) are considered the "most essential" solutions for an organization's day-to-day operations.
Which essential SaaS solutions does your organization use? *
SMB (<1,000 employees)
MME (>1,000 employees)
Microsoft 365

71%

78%

Google Workspace
25%
29%
Salesforce
16%
32%
*Respondents were asked to select all tools in use. The above values cite total responses for each solution category. Percentages will exceed 100%.
What was previously an intriguing alternative to traditional software installation in business environments, SaaS applications are now becoming mainstream. The transition from on-premise legacy systems to cloud-supported technology makes SaaS an ideal fit for today's hybrid environments. SaaS applications have enabled much greater collaboration and connectivity through platforms that are scalable, flexible, and easy to deploy and use. SaaS nurtures innovation and evolution, enabling organizations to easily adapt to changing times.
Data loss in the cloud is inevitable
Despite all the benefits of SaaS, you can still lose data in the cloud. According to a recent study, 89% of the organizations surveyed mentioned storing sensitive data in the cloud. A data loss incident, given the large volumes of data hosted in the cloud, could have a catastrophic effect on an organization.
Deletion is the leading cause of SaaS data loss (45% of incidents), with most deletions being accidental in nature. This is because data protection under the shared responsibility model doesn't extend to the deletion events that occur due to either intentional or unintentional actions performed by authorized users.
Your SaaS data is your responsibility
Under the shared responsibility model, SaaS vendors like Microsoft, Google and Salesforce are responsible for application uptime and availability while you are liable for the protection of your data as well as account and access management. In essence, it is a partnership between you and your cloud service provider.
Unfortunately, many businesses wrongly assume that SaaS data backup is not their responsibility but that of their solution providers. While SaaS providers can take care of issues arising from inadequacies on their end to ensure application uptime and availability, data loss or downtime due to human error, program glitches, insider activities or cyberattacks is your own responsibility.
Self-recovery is the best policy
A data loss incident can have a ripple effect across an organization, costing money, time and resources to remediate. An organization's typical response in the wake of a data loss event is to start rebuilding the lost data from scratch or open a ticket with the IT team. This wastes valuable time and resources and lowers employee productivity within the organization. A prolonged wait for a help desk response can adversely impact the SaaS email and file recovery process. Moreover, it can increase the IT burden and impact productivity since locating and restoring files is a typically costly and time-consuming task.
Although such a scenario is common among organizations that have suffered data loss, it doesn't have to be the same for your organization. With Spanning Backup End User Self-Service, your end users can quickly and seamlessly find and restore files while reducing the burden on your IT help desk.
Spanning Backup End User Self-Service
A quick and seamless recovery from a data loss incident minimizes downtime and plays a critical role in keeping a business moving forward. Traditionally, the responsibility for data restoration lies solely with the IT department. However, Spanning Backup allows admins to grant end users the capability to restore emails, files and more directly from the backups of their account on either Microsoft 365 or Google Workspace tenants.
Once configured by administrators, end users can launch the Spanning Backup application directly from Spanning.com or via the Microsoft App Launcher or Google Marketplace Apps. This helps them perform non-destructive restores of their backup data into their own account, including:
Microsoft 365: Mail, Calendar, Contacts, OneDrive
Google Workspace: Mail, Drive, Calendar, Contacts
Spanning Backup offers two ways for users to locate the items they want to restore quickly:
Point-in-time: With this method, end users can choose a specific backup date using the calendar date selector feature.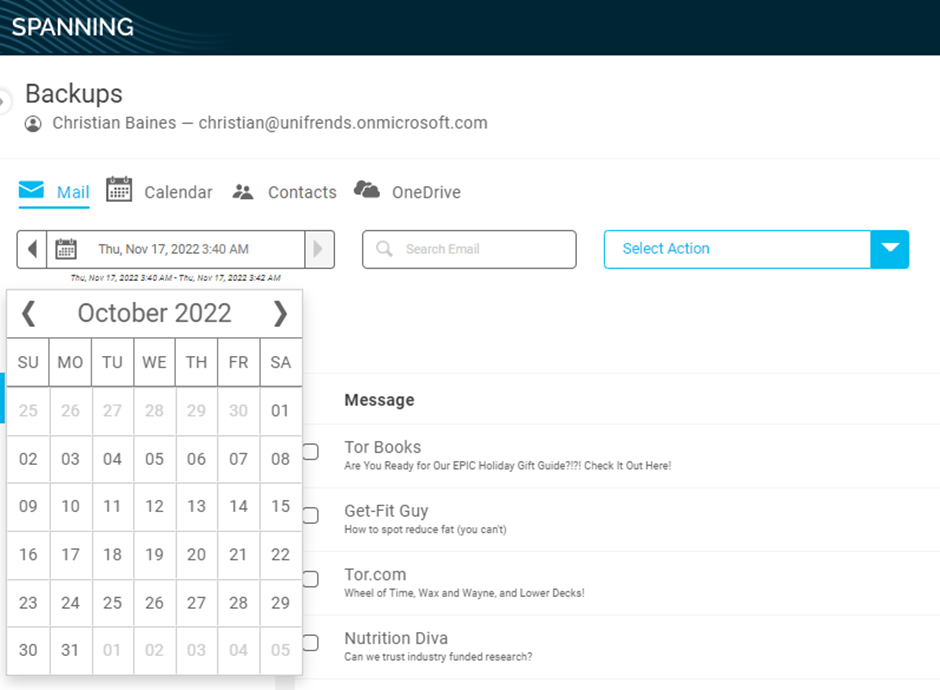 Search: Here, end users can use the search bar to search emails by "Author" or "Subject," and Spanning will automatically populate the panel with a list of matches.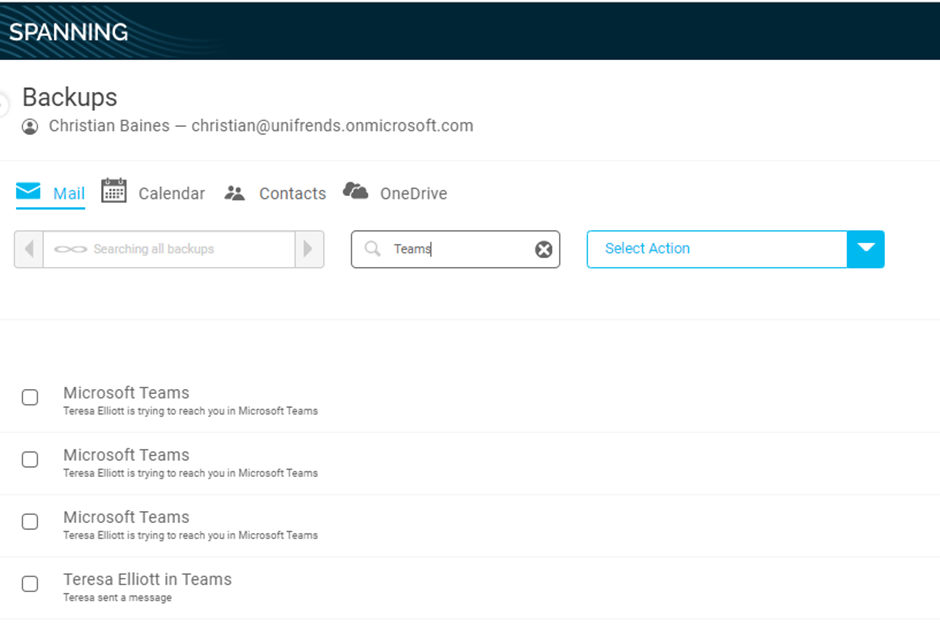 Reduce the costs of data loss incidents with Spanning Backup
End-user self-service is a great way for organizations to minimize the direct and indirect costs of data loss incidents and maximize employee productivity while reducing the burden on the help desk. Self-service restoration of data, coupled with proper employee awareness training, plays a significant role in saving IT time as well.
The costs associated with data loss incidents and noncompliance vary, making it impossible to provide an average cost of data risk. That's where our ROI model comes in handy. Our calculator accounts for several cost factors of SaaS data loss (direct, indirect and noncompliance) to provide you with a quantification of the value of a SaaS backup solution.
If you're still not convinced, see how much your organization can save with our Spanning Backup ROI calculator.